Hospitality, retail and leisure firms are facing huge levels of debt as the economy reopens, industry bodies have told the government.
Kate Nicholls, the boss of Hospitality UK, warned of "long Covid for the economy, if you're not very careful".
Speaking to the Treasury Select Committee, other trade bodies said government support had not been adequate during the pandemic.
Ms Nicholls told MPs that the industry had amassed £2.5bn of rent debt.
She added that the hospitality sector was coming out of lockdown with another £6bn worth of government debt accrued through schemes such as the Coronavirus Business Interruption Loan Scheme (CBILS).
"While government measures have been really helpful in terms of setting out a framework for easing the burden of government backed debt, we're not seeing that translated through on the ground by banks" she said.
Rent debts
Ms Nicholls told the committee: "We've got £2.5bn of historic rent debt, which currently falls due in one hit on 1 July when the moratorium ends, so we urgently need those moratoriums extended."
She added that one in five of her members are saying there will be insolvencies and site closures, if the issue is not resolved.
A commercial rent moratorium – a temporary ban on evictions – was introduced in March 2020, but comes to an end on 30 June.
She told MPs it was particularly worrying for businesses with multiple sites: "If you've got 50 sites in your hospitality business, you've probably got 50 different landlords, and all it takes is one landlord to be recalcitrant and to not concede or negotiate, and it could be enough to trigger insolvency across the whole of the estate."
Concern was also expressed about the next stage of the reopening of the economy.
Step four of the government's roadmap for lifting lockdown restrictions on 21 June would see all legal limits on social contact removed, nightclubs allowed to reopen and restrictions on large events and performances lifted.
Ms Nicholls said the uncertainty around this date was not helping the industry and its financial recovery.
"While we've got restrictions that are uncertain about 21 June, we can't lift those moratoriums without facing a real calamitous impact on those businesses," she added.
She added that there was strong demand among consumers as restrictions eased, but most firms were still operating at a loss due to capacity restrictions.
Helen Dickinson, chief executive of the British Retail Consortium (BRC), told MPs that rent debt was a problem for her sector too.
She said protections over historic rent needed to be kept in place, to give landlords and tenants time to negotiate over the coming months.
"The end of June is upon us imminently and therefore the decision does need to be communicated as quickly as possible", she told MPs.
"We've lost around 5,000 shops during the course of 2020. Whether we lose more shops going forward than we need to, will depend on the rent moratorium decision, and what happens with the business rates review."
Ms Dickinson told the committee that footfall into retail locations is still down 30% on where it stood pre-pandemic.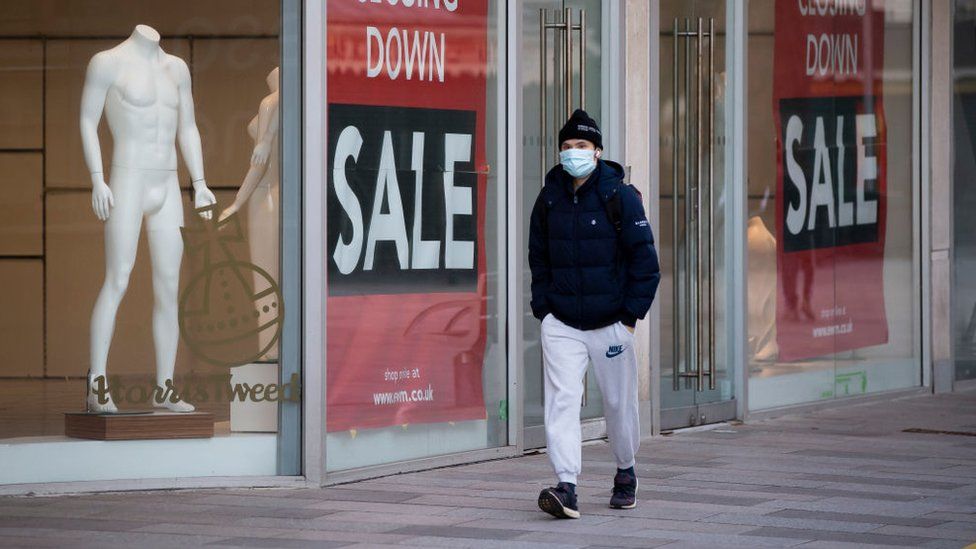 Mark Tanzer, chief executive of travel trade body Abta, told the committee that travel companies were also looking for a "complete step change" in the government's attitude towards the industry.
"The summer season accounts for two-thirds of travel business and we're in it now and no one is travelling," he said.
He stressed that the small number of countries on the UK government's green list, which removes the need for passengers to quarantine on arrival, meant "our members have been living on no revenue".
"Worse than that, they've been having to pay refunds and do rebookings," Mr Tanzer told MPs.
Like Hospitality UK and the BRC, Mr Tanzer called for a rent moratorium extension, as well as an extended furlough scheme, saying the travel industry had been hardest-hit by the pandemic and needed targeted support.
"I really do fear for losing a generation of travel companies if we don't act and get some financial support in from now," he said.
The Department for Business did not immediately respond to the BBC's request for comment.