Summary
eBay was down 11% after earnings report on analyst predictions.
The company's new management, which has been in place for just over a year, is having a major positive impact on the company.
Financial statement trends are strong and accelerating.
First, our market risk assessment:
Fairly High Risk, New Purchases 6% Of Cash Position.
SPY currently trading at $419.72. Indicated BuyAt $397.66 (5.26% below current market), SellAt $440.11 (4.86% above current market).
Risk calculation based on proximity of current price to the Algo-indicated BuyAt and SellAt prices of the S&P 500 and the top one hundred momentum growth companies trading on US exchanges.
The Risk Research portfolio is currently 89.17% in cash.
To sum up our approach, we follow companies with a potent and rare combination: accelerating rates of revenue and gross profit growth, and an accelerating financial strength. Less than one percent of all public companies qualify. We accumulate positions on weakness. There's more on our approach below. It will put the following analysis in context.
SuperGrowth MultiBagger: EBAY – eBay Inc
EBAY – eBay Inc, ranks 68 out of all public companies in terms of positive financial statement momentum. It ranks first or second in terms of proximity to its indicated BuyAt level.
eBay Inc (NASDAQ:EBAY) was down over 11% after earnings report because of weak guidance, and despite and earnings beat and guidance raise. The market seems to think analysts can predict the future. Yes, they can. We can too. Unfortunately, just not accurately, or at least not accurately enough to generate alpha. There are many studies on this that are easy to find online. Here's one example: Are financial analysts' earnings forecasts accurate? Rather than benefiting from analyst earnings predictions, an investor in high-quality companies can benefit from weak stock prices that often follow analyst earnings predictions.
As far as management's statement that inspired analyst negativity, here's what Andy Cring, Interim Chief Financial Officer actually said:
For Q2 we are projecting revenue between $2.98 billion and $3.03 billion, growing between 8% to 10% on an organic FX-neutral basis, representing 12% to 14% growth on a spot basis. This assumes marketplace volume declines high single to low double digits on an FX-neutral basis, representing a decline of mid to high single digits on a spot basis.

This volume guidance is driven by three main components. First, the negative impact from lapping our second largest quarter ever, which was fueled by the first wave of mobility restrictions, stimulus payments and supply chain disruptions.

Second, the ongoing benefit from macro factors, including mobility and stimulus payments across our on-platform businesses, which we estimate are contributing high single-digit growth this quarter. Third and most importantly, continued delivery on initiatives driving us towards our vision. . ."
What interests us about the company is the new CEO, and the strategic decisions he's making. That, and, of course, the company's financial statement momentum which is the analytical approach that underlies all of our investment decisions.
The CEO's background, from the Proxy statement released recently:
A transformational period since the start of 2020 saw the sale of StubHub and the agreement to transfer eBay Classifieds to Adevinta, and now eBay moves forward with renewed focus on our core Marketplaces business.
During 2020 we brought eBay alum and leading e-commerce executive Jamie Iannone back to the company as CEO and aligned with Jamie and his management team on our strategic direction toward a tech-led re-imagination of eBay.
Earlier in 2020, Mr. Iannone served as Chief Operating Officer of Walmart eCommerce, where he also was responsible for Store No. 8, Walmart's incubation hub. Since 2014, Mr. Iannone held leadership roles at Walmart Inc. including CEO of SamsClub.com and Executive Vice President of membership and technology, Sam's Club, a $57 billion business. In those roles, Mr. Iannone grew the SamsClub.com business and Sam's Club's membership base. Before Walmart Inc., Mr. Iannone was Executive Vice President of Digital Products at Barnes & Noble, Inc., where he was responsible for all NOOK devices, software, accessories and retail integration and experiences; books and digital content; and third-party partnerships. Mr. Iannone held various roles at eBay from 2001 to 2009, including leading Product Marketing, Search, and Buyer Experience. He previously worked at Epinions.com and Booz Allen Hamilton.
That's an impressive background. The restructuring mentioned includes the sale of eBay's classified business to Adevinta on July 20 of last year, which is expected to close in the second quarter. Based on current pricing, eBay stands to gain $3.5 billion on the transaction (originally valued at $9.2 billion, now worth an estimated $12.7 billion, or a gain of $4.87 per share).
In addition to the return of Iannone to eBay in April 2020, what interests us about the company, and what originally attracted our attention, are the company's financial statement trends. Since his arrival, free cash flow and financial strength trends have developed some real momentum.
While sales and gross profit growth have been improving since his arrival, free cash flow trends are significantly stronger.The company's improved operating free cash flow and pre-tax free cash flow are reflected in balance sheet trends and overall financial strength.
Timing Analysis
Philosophically, we are buyers of high-momentum growth companies on weakness. To facilitate that, we've developed AI pattern recognition software that, in its simplest terms, looks for panic selling. Based on the patterns our software sees, a BuyAt price of $52.27 is indicated, 5.9% below the current market of $55.35. The stock last traded at that level in early March. We follow the top one hundred financial statement momentum companies (as noted earlier, EBAY is number 68 on the list) waiting for opportunity. It is our hope that opportunity is not far off in eBay.
It is important to note that the Algo updates every few minutes throughout the day based in part on volatility. Higher volatility means and the bid drops, lower volatility and the Algo will pay more. That is why the numbers above and the numbers below vary slightly. The numbers below were indicated by the software a couple of hours ago.
Although the Algo, on average, generates two or three buys a year, the last buy in the case of eBay was at $26.04 in March of last year. The graph above on SPY is more typical. The Algo sold the eBay position a few days later at a 16% profit. Many of our subscribers — longer term investors — ignore the sell signals.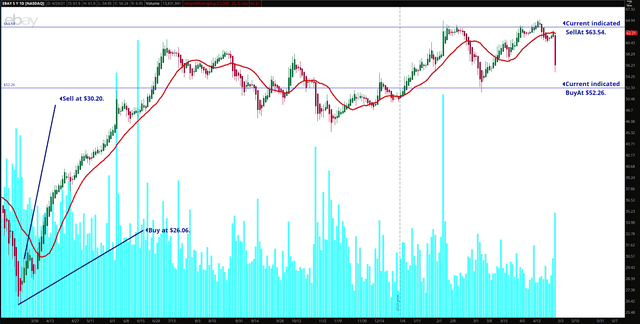 An Introduction To Our Investment Approach and Research
Our approach has two primary elements:
Fundamental analysis of financial statement trends. This is basic Graham & Dodd credit analysis. In order to compare the financial statements of each public company to all others, we've created software that utilizes that analysis.
Buy on weakness, particularly extreme weakness, in quality growth companies. To accomplish this, we've developed AI pattern-recognition software that takes advantage of investor emotion. This software works on the assumption that the higher the market goes, the less the perceived risk and the higher the actual risk, and the lower it goes, the opposite (higher perceived risk, lower actual risk).
We view investing as probability analysis. The market is driven by randomness, emotion and fundamental business principles. All three. We've developed software that takes advantage of all three. Though their strategies differ widely, a common characteristic of every master investor we are aware of, for instance Warren Buffett, George Soros and Jim Simons, is that they follow approaches designed to take advantage of the emotions of others.
The market's randomness derives largely from the fact that only a tiny percentage of shares trade on any particular day, so any preponderance of buyers or sellers, some of which may buy or sell for idiosyncratic reasons not related to the performance of any particular company (the need to raise cash for unrelated reasons), fear, perhaps due to a concern about the health of the economy, disproportionately affects stock prices.
In the short term, randomness and emotion have an outsized impact. In the medium term, say two months to two years, randomness and emotion gradually get supplanted by fundamentals. In the long term, two to five years, the market is driven almost entirely by business performance. Time is therefore on the side of the fundamental investor in business quality.
We're two week to six month investors, and as such we seek to profit from fundamental analysis, emotion and randomness. To illustrate, consider Netflix (NFLX) in the ten-year period 2010 to 2020. The stock increased in value over 37 times in that period, making it the top performing S&P 500 stock.The point is that even the top-performing stock of the decade experienced significant declines. We've developed artificial intelligence software designed to take advantage of those declines. The fundamental financial statement trend analysis identifies SuperGrowth MultiBaggers like Netflix; the AI pattern recognition software identifies declines in the stock driven by emotion. It also identifies stock price rallies that are unusually intense, and thus likely driven by FOMO (fear of missing out), by irrational exuberance, although many of our subscribers are long-term investors and ignore those sell signals.
In back tests, however, taking advantage of the sell signals contributes significantly to performance. It also allows for the taking of larger positions, gradually, on price declines because cash is raised during sharp rallies. The market has a habit of going up and down, both, although the long-term trend is obviously up.
In the discrepancy between stock performance and business performance opportunity lies.
eBay Conclusion
Exceptional business quality. Minimal risk. Growth trends very strong. Growth momentum: accelerating. Slightly below average upside potential. Profitability trends extremely strong. Financial strength exceptional, trend particularly strong. Dividend secure. Margin trends slightly positive. Twelve-month liabilities trend exceptionally favorable. Two-year leverage trends very favorable. Fairly valued.
The "Slightly below average upside potential," is a conclusion reached by our software when comparing current free cash flow to the free cash flow of five years ago. We think it is a worst-case scenario. The upside will be largely determined by the new management team.